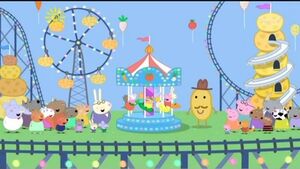 This is the article about the park. For the episode, see Potato City.
Potato City is a theme park based around fruit, vegetables, Mr. Potato (who we can assume is the mascot) and, for some reason, dinosaurs.
Known Rides
The Potato Rocket
The Vegetable Roundabout Swing Thing
Unnamed Dinosaur Ride
Trivia
Mr. Potato called it, The Round About Swing Thing because he could not think of what to call it, he couldn't think of a name when he said thing instead of smiling, his mouth was just plain normal when he said thing.