George Pig, or George is Peppa's little brother. He is voiced by Oliver May and Alice May.
Personality
George is a loving little brother who looks up to and cares a lot for Peppa. He is timid and disobedient. He loves being given attention. Like any young boy, he has an interest in things like dinosaurs and space.
Appearance
George, being a toddler, is very small in comparison to most of the cast. He is pale pink with off-pink lips, has pink cheeks, and big wide eyes. He wears a blue shirt.
Other Outfits
Blue and yellow winter clothing
Red boots
Prince costume
Dinosaur costume
Astronaut suit
Dinosaur pyjamas
Traditional Russian clothes
Ice skates
Ski wear
Detective wear
Among Us
Skills
Ice Skating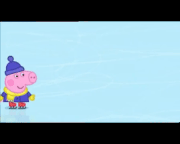 Main article: Ice Skating
George is to scared to ice skate at first. However, after being convinced by Peppa, he immediately picks up ice skating from her before she starts talking, even doing twirls.
Quotes
"Dinosaur, Grrr!"
"Oink!" (mostly twice in a row)
"Go!"
Trivia
George's best friend is Richard Rabbit.
George appears in a streak of 53 episodes (Muddy Puddles to Bubbles)

The first episode he doesn't appear in is Emily Elephant.

It is also the first time an older sister isn't accompanied with a younger brother.