These characters are to be given placeholder names.
Background Characters are the rest of the characters who make up Peppa Pig's world. They are without names or information and were made to fill in certain scenes. Characters that are not background characters but do appear as them in some episodes are not listed here.
Children

Children that have no names and have only some words said.

His placeholder name, has yellow fur and a burgundy mouth and is seen wearing a t- shirt similar to that of George Pig. He may be the grandson of Mr. Stallion and Mrs. Corgi.

Her placeholder name. She makes an appearance during Mr. Potato's Christmas Show, amongst the audience of children. She wore a pale blue dress and is theorized to be the daughter of Mrs. Cow, and possibly Mr. Bull.
A background character that appears in many episodes. He wears orange and is pale silver, with rosy cheeks and a large ivory horn at his nose. He may be the son of Mr. Rhino.

A dark brown panther boy with dark brown nose, dark red lips, and dull pink cheeks. His outfit is dull, light purple.

A brown wolf child, with a dark brown circular nose, dark pink lips and pale pink cheeks. He is wearing a dull, blue outfit.

A white donkey toddler with a light pink nose, pale pink cheeks and pale pink lips. His outfit is bright, cyan.
A yellow kid rabbit is shown in Mr. Potato's Christmas Show.
New Toddlers
Baby Dog, Baby Pony, and Baby Wolf can be seen in the episode "Soft Play".
Adults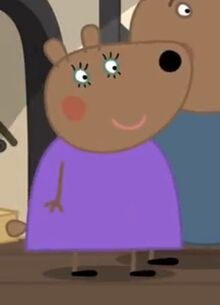 A light brown female bear who appears often in group scenes. She has turqoise eye makeup and light red cheeks. Her lips are pale in color. She wears the same black shoes as the other residents, as well as a light purple dress.
The official chart shows that she is the mother of Belinda Bear and wife of Doctor Brown Bear, but this was not actually revealed in the show.
On the official family and friends chart, a female goat with dark grey skin is shown. She wears a seafoam dress and has light colored makeup. She was not shown in the series, and is not Gabriella's Aunt.
A named, but not shown character related to the Pigs. She is a great-aunt who was mentioned during "Horsey Twinkle Toes", when she delivers a package for George and Peppa.
Beaver Couple
A beaver couple that appear in "Grampy Rabbits Hovercraft"

A barista who appears in "Grampy Rabbit's Hovercraft". He could possibly be related to the Dog Family
A badger that frequently appears in the show.
He debuted in Potato City.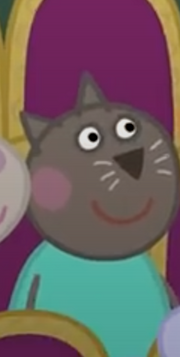 A female cat that debuts in Mr. Potato's Christmas Show.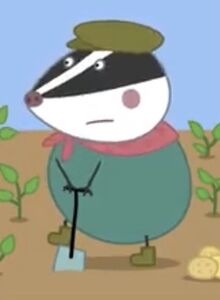 Trivia
Gallery
Community content is available under
CC-BY-SA
unless otherwise noted.